Mura CMS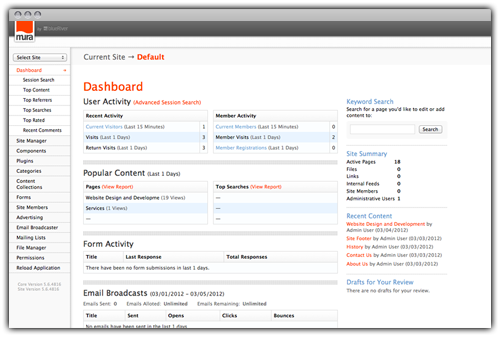 We offer designs in both the popular WordPress content management system (CMS) as well as a ColdFusion based CMS called Mura.
The Mura CMS is a powerful tool that gives you full control over all the content on your site. Mura is a completely free and open-source CMS originally developed by the Blue River Group. Open-source means you can fully customize the content management experience to meet your site's needs. Additionally, Mura is a scalable CMS, which means as your site grows, Mura grows with it.
The Mura CMS (content management system) gives you the power to control your site. The Mura CMS is a free, open source web management system created by Blue River Group.
Here at Ignite Interactive, we use Mura to create and develop many of our clients' web sites. Our clients also use Mura themselves to edit page content, update blog posts, create dynamic photo galleries and manage RSS feeds.
Ignite utilizes the Mura system with many of the sites we create. With Mura, our clients are able to edit content, update a blog, create photo galleries and RSS feeds.
Learn more about Mura at getMura.com.